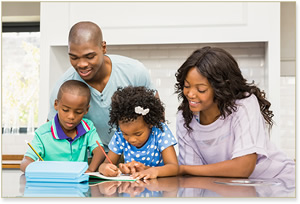 This is the first of three stages designed to build healthy children according to God's wisdom. The focus on the first stage is to secure your children in God's love. Emphasis will be placed on understanding the nature of God's love and reproducing this love in your marriage and in your treatment of your children. This will include both tender and firm love that will lovingly drive out foolishness or disobedience in your children. A vital part of this stage is developing a written Game Plan for parenting young children. This document will insure that parents are united and consistent in carrying out God's wisdom principles for nurturing young children.
Purchase Parenting Younger Children Stage
This stage is available to purchase on a set of DVDs along with the companion Parenting Younger Children Notebook. Find out more about Parenting Younger Children and how to purchase it.